Fast Cleaner - Speed Booster & Cleaner
2.1.0
Phone Booster – Speed up Your Phone with a Single Click
If you are fed up with the slow speed and performance of your phone then this phone booster is just what you need. Fast Cleaner – Speed Booster & Cleaner is a useful app which can boost the speed of your phone and also clean up the junk files that are slowing it down. It can help you in not only enhance the performance of your device but can also prolong its life as well as its battery power. You will just have to press a button to terminate all the unnecessary processes and apps running in the background. These apps and processes hog your phone's RAM which in turn slows it down. By ending them, this app can ensure that the app you are using gets to use your phone's full memory capacity.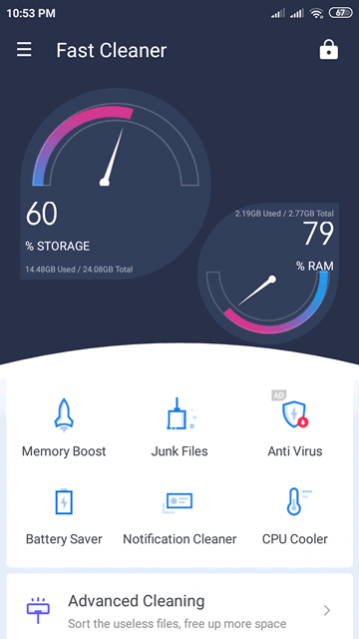 Fast Cleaner – Speed Booster & Cleaner has an elegant user interface which complements its intuitive design and layout. You won't have any difficulty in using the different features and tools that this phone booster has to offer you. On its home screen, you will find two dials that will show you the percentage of the storage capacity and RAM currently in use. If the RAM dial shows that a large percentage of your RAM is being used up, you should look to clear some memory. There is a Memory Boost option provided to you which can help you in freeing up some RAM. It does this by terminating all the apps and the processes that had been eating up the memory reserves of your device.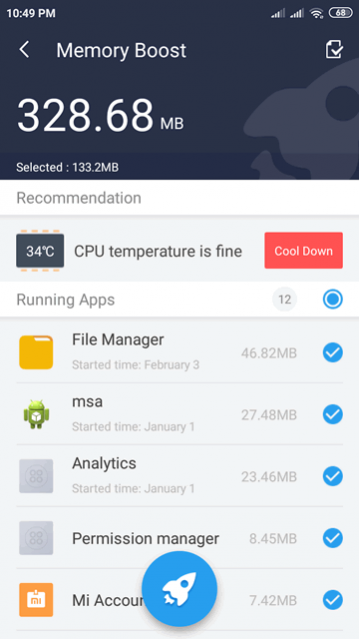 This phone booster isn't just capable of freeing up RAM. It can also help you in reclaiming your phone's storage space as well. This is done by deleting all the junk files that have constantly been accumulating on your device. These junk files are of no use to you but they occupy a lot of space on the phone. Fast Cleaner can round up all such files and give you the chance to delete them with a single click. The cleanup button can be found at the base of the screen. You also have the option to deselect any of the files that you don't want to be deleted from the device. This can be accomplished by unchecking the box of the app whose files you want to keep.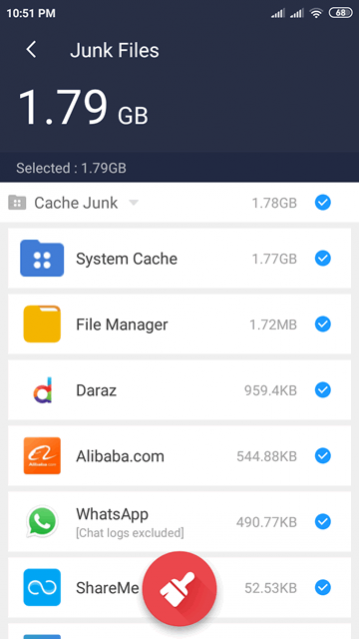 Fast Cleaner – Speed Booster & Cleaner has a Battery Saver feature too. It can help in prolonging the battery power of your device and ensure that you don't have to recharge your phone every few hours. This phone booster does this by ending any app that has been using up a lot of battery juice. However, you need to give a lot of permissions to utilize this feature. In addition to saving battery power, this phone booster can also cool down the temperature of your phone's CPU too. It can also help you in thoroughly cleaning your internal storage as well.
Features:
Elegant user interface
Intuitive design and layout
Boosts phone speed by terminating unnecessary processes
Clears out the cache to free up RAM
Deletes the junk files to get back storage space
Cools down the phone's CPU temperature
Saves battery power by ending apps running in the background
Thoroughly cleans the internal storage
Accelerates games by wiping internal memory before play
Conclusion:
Fast Cleaner – Speed Booster & Cleaner is an app which is ideal for people who are tired of the slowness of their phones and want to boost its speed. It allows them to speed up their phones by erasing all the junk files and ending the unnecessary processes that had been hampering its performance. It is an excellent phone booster and you should give it a go.
---
Add a review
Tell us your experience with
Fast Cleaner - Speed Booster & Cleaner
2.1.0
RELATED PROGRAMS
Our Recommendations
---
---
---
---